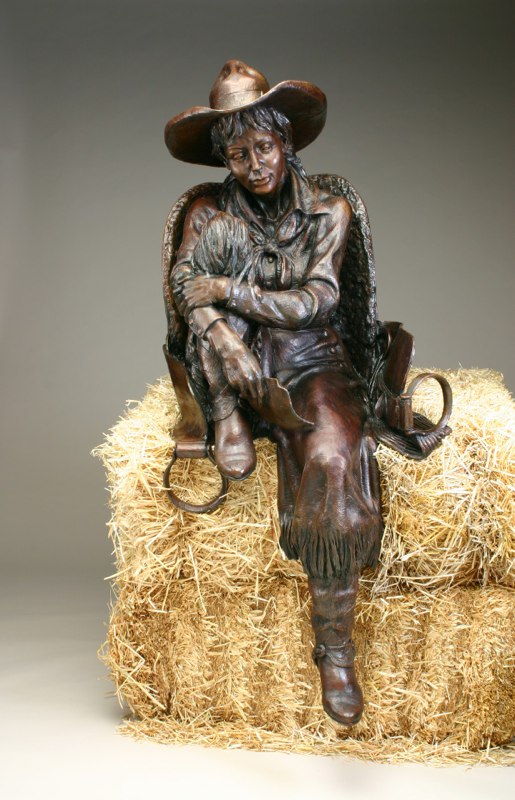 58″ x 26″ x 40″
Limited Edition of 8 Bronze
$29,500.00
One of the most colorful periods in the history of the west involves the beginning of the rodeo. Those early days are seldom recorded in sculpture, and even more obscure is the artistic reference to the early rodeo cowgirl. These stories cry out to be told. One of my first attempts to chronicle the lives of these women of the west is in "Letter From Home." From the 1800's to the end of the 1920's rodeo was developing into the sport we see today. The early days had rules that were developed and constantly changed. The women of this time rode bronc's, roped, did trick riding, rode and bulldogged steers, and rode in relay races. These women often bested the men in the events in which they both competed. They risked their lives to pursue the life they loved. They traveled throughout the United States, Canada, and even into Europe plying their trade.
This piece depicts a rodeo cowgirl from the early 1920's. Her saddle sits behind her, propped up on the horn, with the stirrups coming around her. The saddle is a Hamley from that period and is fully carved with a pattern from that period. The saddle artistically draws the viewer around the entire piece.
It is the end of the workday and this cowgirl is still wearing her split leather riding skirt, her boots and her spurs. I have carved a butterfly pattern on her boots. She has just finished reading the letter in her right hand. Now she sits and contemplates the contents of the letter. What news does the letter contain? That is for you to fill in as you interact with the piece.
This top hand sits looking to the future and thinking about her "Letter From Home".