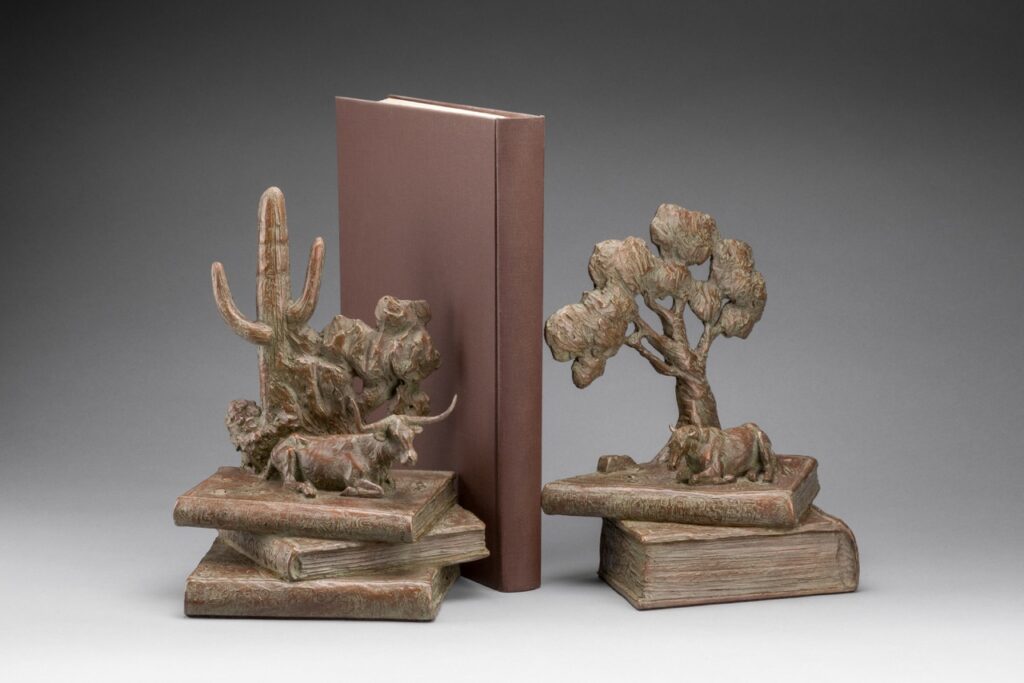 ---
Horse 10 ⅛" x 8 ¼" x 6″
Steer 10 ⅝" x 8 ⅜" x 5 ½"
No Base
Limited Edition of 20
$3,400.00
Let Curt tell you about this piece!
Do you love a good book? I read as much as my time allows. Books take us to places we have never seen, tell us things we didn't know, paint pictures in our imagination. I had been thinking about doing another set of bookends but needed too have the right idea. When this idea came to me, I became excited to sculpt this piece "Western Tales".
As you know, Wendy and I love horses, and cattle are wonderful subjects to sculpt and work horseback. Both are iconic of the West. So I put them together along with classic books of the West. This is a very peaceful piece. Both horse and steer are reclining in the afternoon sun. The horse is dozing, eyes closed head drooping. He's under the shade of a tree, and is lying on two classic books, "All the Pretty Horses" and "The Virginian". It looks like this horse just climbed up onto the books and plunked himself down for a snooze. Note that the books that are held by these bookends can be seen through the tree. It will look so cool!
The steer on the other side is no less interesting and fun. He is there, chewing his cud and resting with a palo verde and saguaro cactus behind him. The setting is definitely Arizona. He too is lying on some well known western books. These are "The Longhorns", "Lonesome Dove", and "We Pointed Them North". What wonderful titles to have in your library! This steer also has climbed right up onto the books and is taking his rest.
"Western Tales" are sure to bring a smile when you choose a book. Time to read and relax!