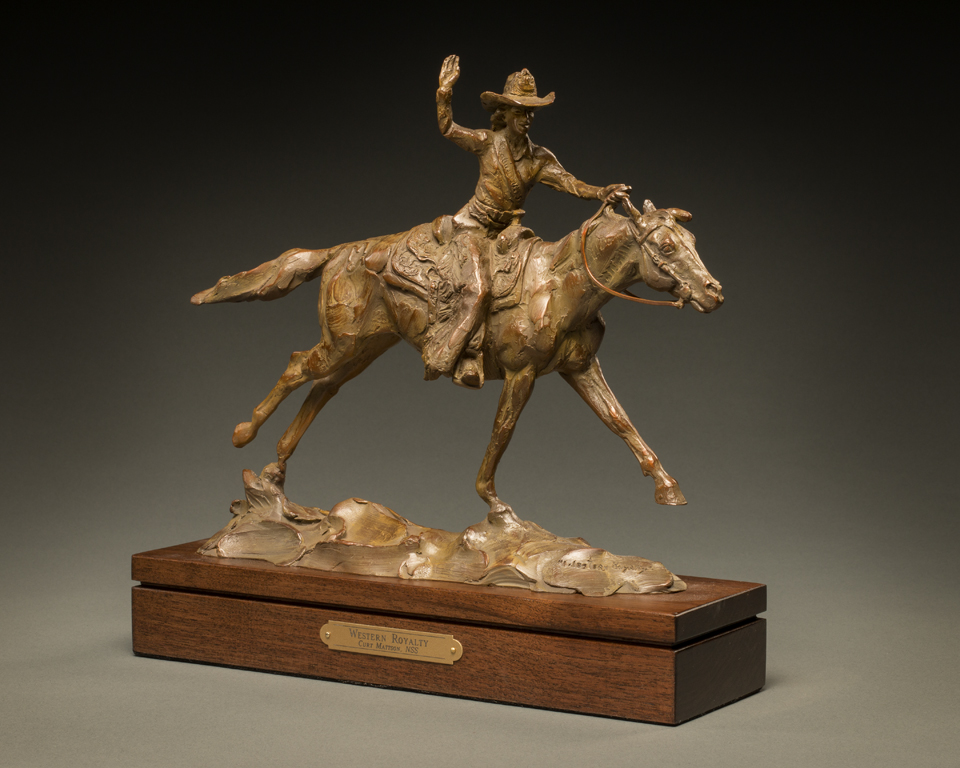 ---
11″ x 11 ½" x 3 ½"
Limited Edition of 20 Bronze
$2,800.00
In the world of rodeo, one of the events biggest ambassadors is the queen. These young women represent rodeo throughout their community or, for the national queen, throughout her country, and sometimes even in different nations. An opportunity came about to honor these ladies in a sculpture. It was very exciting to Wendy and I, so I went for it! Our niece is a very accomplished rider. She has ridden show jumpers for years, and decided to expand her riding credentials by running to be rodeo queen for her hometown of Medicine Hat, Alberta, Canada. This on top of attending University, training for powerlifting, and showing. She put in her application the last day of eligibility, and it was off and running. They were judged on many skill categories, including horseback, speaking, fashion show and a question and answer session. Well, when it was all said and done, she won the competition!
This sculpture was created to honor the Queen and the Princess of the Medicine Hat Stampede Rodeo for a few years. The community really gets behind these girls, as is so true of rodeo in general. It is wonderful to play a small part.
I chose a classic part of the queens responsibilities, to gallop around the arena and welcome all the fans to the show. This queen is wearing a typical outfit. You will notice her crown on her hat and sash over her shoulder. The chaps she is wearing are long with a lot of fringe that flaps in the wind as she ride. These chaps are patterned after the type a bronc rider wears in rodeos. You will notice the Medicine Hat Stampede brand on the bottom of the chaps and the same brand on the hip of the horse. Her saddle is a swelled saddle that is nicely tooled and worthy of a queen! The horses they ride have to be good and solid. They are used to move cattle from the arena during roping competitions among other things and to be able stay calm in crowds, parades, and carrying flags around the arena at a full out run. All this and sometimes more are a part of the queens duties. This horse is performing flawlessly and the queen waves to the crowd giving them a hearty welcome. These women are skilled, smart and outgoing. They are truly worthy of the title "Western Royalty".