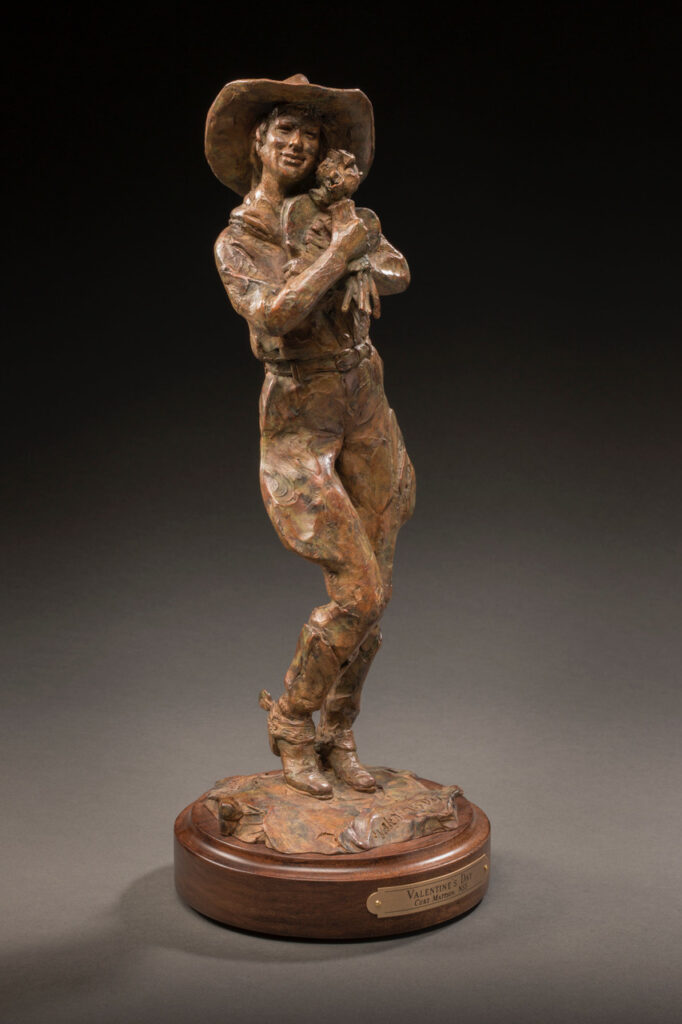 ---
---
14″ x 5 ½" x 5 ½"
Limited Edition of 9 Bronze
$1,950.00
The early 20th Century cowboys and cowgirls have many unique characteristics. During this period the Old West was still fresh in the minds and imagination of people throughout the country. Buffalo Bill and his Wild West Show was still going strong. He was one of many who lived through the opening of the West and brought it to life for American audiences. Rodeo was taking off and people flocked to watch as things they only dreamed of took place right before their eyes. These events were opportunities for many men and women to present to others the West they knew and loved. The West of 1900 – 1930 had its own look and style. This was one of the things that made it so intriguing artistically and provided an endless source of stories to tell. Men and women alike performed in these shows, often competing against one another.
The women of this period were not only very skilled at what they did but had a wonderful sense of style. From split riding skirts early on, to jodhpurs a little later, each woman made her own statement. She displayed who she was by both her specific skills and her individual sense of style. These daring women had massive numbers of admirers not only in the crowds that came to see them but among the cowboys with whom they shared the arena. The result was, many a romance started in that environment. These were truly "workplace" romances! Many of these cowgirls were ladies through and through, in spite of their rough and rugged persona. Most cowboys, as well, knew how to treat a lady. Some more so than others!
This cowgirl is pretty pleased by the smile on her face and the gesture she exhibits. Her clothing is typical of the late 20's through 30's cowgirl who worked the rodeos. She is wearing jodhpurs, a riding pant that was quite popular with women who rode broncs to relay races. She has boots with a typical roping spur from that era. These things help to identify her favorite event. Her big brimmed hat and silk wild rag around her neck are a part of the flash and style that "Wows" the crowd. She is holding a heart shaped box of candy and bunch of roses from her cowboy suitor. Here is a cowboy who knows how to treat the woman he loves!
This sculpture is a feel good, happy piece. Every woman knows what it is like to be remembered and reminded that someone loves her very much. A simple gift can make for a wonderful "Valentine's Day".