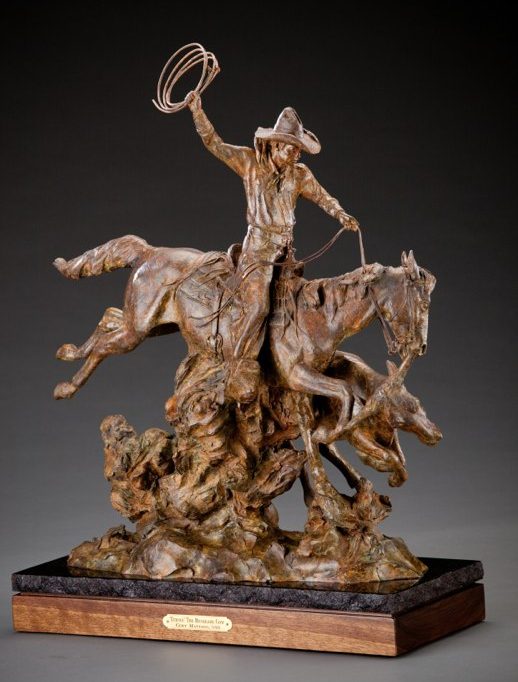 ---
Winner
American Artists Professional League
84th Grand National Exhibition, New York, NY
George Gach Memorial Award & International 2012/2013 ARC Salon Sculpture Finalist
25" x 20" x 10"
Limited Edition of 9 Bronze
$9,000.00
Let Curt tell you about this piece!
This 1920's period sculpture will take you right into the action! It is from a little book, pamphlet really, that I found years ago about the Upper Green River Cattle Association. I have drawn inspiration from this little gem before!
These cattlemen would have roundups in the valley of the Green River from North of Cora, Wyoming to Rock Springs, Wyoming. In the fall, cattle were driven to railheads in Rock Springs. These roundups entailed bringing cattle together from all over the ranch. The cattle were checked for brands and needed doctoring. Brands were checked to be sure they had not been altered as theft is always a possibility. At this time, they also made an accurate tally for the ranch.
During the summer, the cattle grew fat on the rich grass and were not too happy about being taken off that good grass. Hence, there were always cattle trying to make a dash for the hills and freedom. One term used to describe this kind of cattle was "renegade".
The piece depicts a renegade cow trying to outrun a handy cowboy on a well trained cow horse who knows his job! You can see the determination on the face of the cowboy, and his horses resolution. Cowboy and horse mean business as they jump the brush to head off the cow.
All of this cowboy's gear is made by G.S. Garcia of Elko, Nevada. The saddle is Garcia's number 65 Wyoming style saddle with nice border carving and a set of their "round" taps on the stirrups. The horse has an S-shank half breed bit and Garcia's number three bridle. The bit has a nice silver concho, as does the bridle. His chaps are the number ten Garcia batwing with heart shaped nickel conchos. They are really neat! The spur is a Garcia with a slight drop and fancy silver, as well. The cuffs he wears were very popular in these years. His hat style was one of the most popular in that area. These complete this puncher's handy look.
The cowboy and his horse have their hands full as they give their all to try "Turnin' The Renegade Cow".