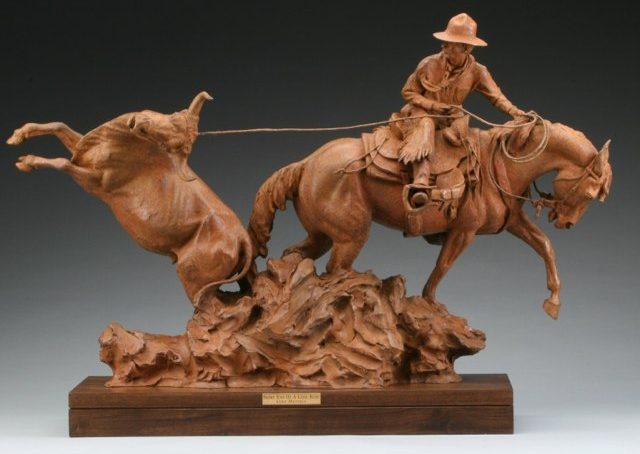 ---
Winner
Ancient Ozarks Natural History Museum, Ridgedale, MO ~ Permanent Collection
2008 Cyrus Dallin Award for Best Sculpture
Quest For The West Art Show and Sale, Eiteljorg Museum, Indianapolis, IN
2007 Best Of Show
National Western Art Exhibition & Sale San Dimas, CA
Cowboy Artists of America Founders' Award*
Presented at the 2006 Phippen Western Show, Prescott, AZ
28″ x 42″ x 10″
Limited Edition of 10 Bronze
$18,000.00
Let Curt tell you about this piece!
This is a real action piece here!!! This contemporary buckaroo has hooked on to a dry cow in need of some attention and she has tried to bolt, but come to an abrupt stop. There are always these snaky old cows who just don't want to cooperate with the program. When they don't, things can get pretty western! It is always a challenge to come up with compelling design telling a story that catches us and won't let us go. I strove to do this in this piece. You can see the pull of this good horse as the weight of the cow hits the end of the rope.
I've got this buckaroo off to one side of his saddle as the rope stretches across the cantle of his saddle so he doesn't get knocked off his horse. He is riding a good Wade saddle with bucking rolls on it and a five inch straight up cantle. His colt has a snaffle bit with a Mecate rope for the reins. Mecate ropes are braided horse hair ropes that are used on hackamores and snaffle bits. The end of his Mecate is tucked into his chink leggin's so no matter what happens he has a chance of keep hold of his horse if he ends up on the ground. I put a martingale on this colt with silver conchos on it. It sure gives this classy colt a good look. The buckaroo is looking back at the action, dallied and ready to deal with whatever comes next. As he looks back, he see this tough old cow come to the "Short End Of A Long Rope."
*The Cowboy Artists Of America Founders' Award
presented at 2006
Phippen Western Art Show.
In honor of the founders of the Cowboy Artists of America, George Phippen, Johnnie Hampton, Charlie Dye and Joe Beeler. The current members want to recognize young artists who endeavor to continue the artistic representation of the American West in the tradition of Russell and Remington. The Cowboy Artists of America and especially its four founders.
The CAA Founders' Award recognizes an individual for their commitment to that tradition and to encourage this artist to continue to develop their talent and body of work.