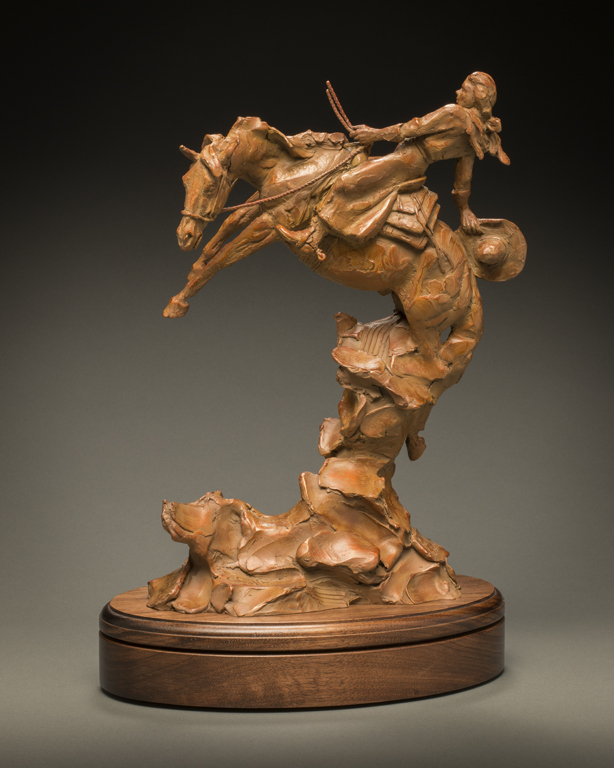 ---
17 ¼" x 12″ x 7″
Limited Edition of 9 Bronze
$4,200.00
The women of the early 20th century West were truly amazing. They lived in a time when the West was a place of endless possibility. Some had mothers who had come West in the mid to late 19th century and had endured many hardships. There were also women from the East who came West desiring a new life. They had read many of the pulp fiction novels about the West, novels about Calamity Jane, Belle Starr, Cattle Annie, Little Britches, and Annie Oakley. As well, Buffalo Bill and his Wild West had toured extensively in the East whetting their appetite for adventure. The West was a place where anything was possible, and where women were allowed to live a life with fewer restrictions than other parts of the country. So the women came. Some wanted to be a part of the Western lore and the horseback culture.
One place where they were welcomed was in the world of the Wild West shows. They could compete with the men in many of the events but also had events of their own. Bronc riding, steer riding, roping and relay races were some of the events. To ride a bronc in that era was a challenging task. These horses were wild, extremely agile, fast and skilled. The rider of any one of these horses had to be capable, determined and strong. As well, they had to ride these horses until they stopped bucking! There was no eight second rule until later in the rodeo development.
The piece depicts one of these amazing women from the turn of the century. The split riding skirt places the piece between 1900 and 1920. As things developed the women changed their dress to better accommodate their events. Her blouse is loose fitting and shiny. These women love to catch the crowds attention as they rode, bright colors were a way of doing that and getting the judges attention as well! Her saddle is a typical bronc rig from this period. Notice the swells of the saddle that are helpful when aboard 1000 lbs of twisting horseflesh. I used what was known as an oxbow stirrup on this piece. This style kept her foot in the stirrup better than others kinds and helped her spur the horse freely. I love the hats of this period. They had large 5-6 inch brims with tall crowns. You will notice that this cowgirl is fanning her horse with her hat to get him to buck harder. Note the big bow in her hair. The women of this period were tough but wanted to show their femininity as well.
The bronc she is riding is rawboned and rank. There is a rope halter on him with two buck reins. Notice that the cowgirl is watching the horses head. This tells her where the horse is going to buck next. The women that climbed aboard these horses loved the challenge and the danger. Truly, "She Knew No Fear".