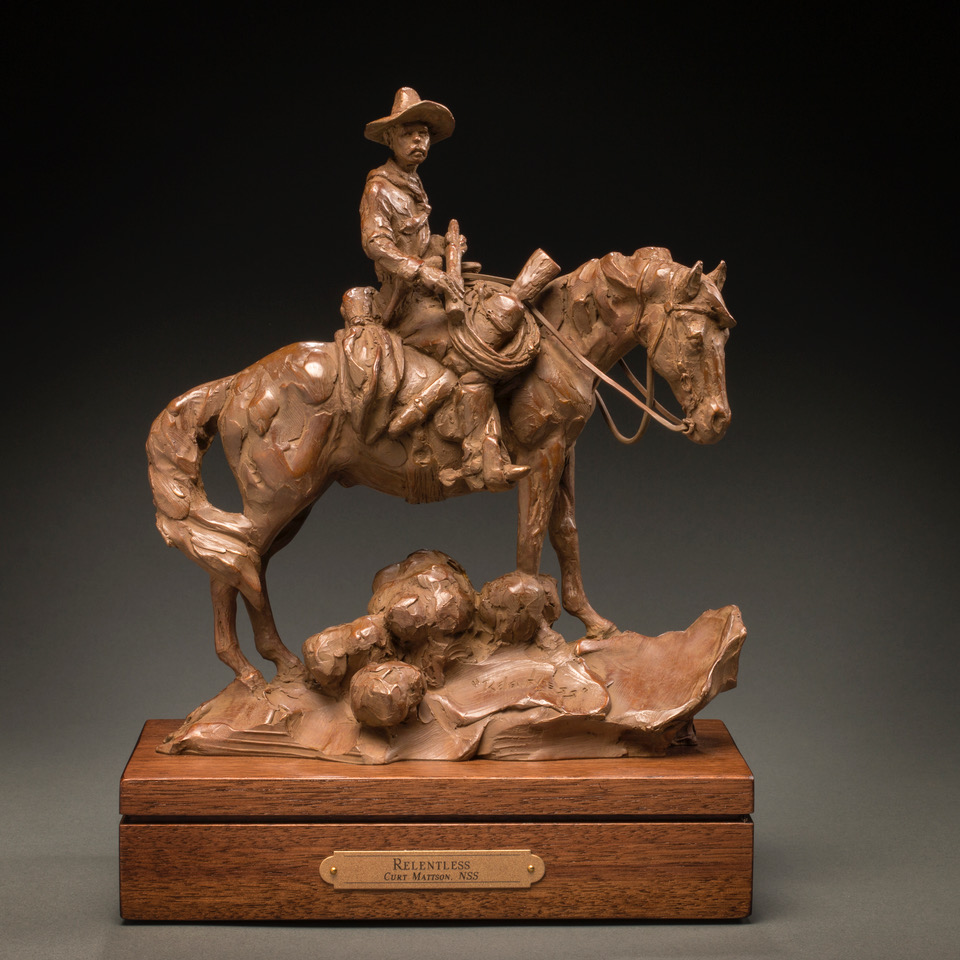 ---
11 ½" x 8 ½" x 4 ½"
Limited Edition of 20 Bronze
$2,850.00
Let Curt Tell You About It!
All of us today have a great respect for people who are known as "First Responders". These are the police, firemen, paramedics and others that rush into dangerous situations when others are rushing out. In the Old West, there were first responders as well. They were often the officers of the law who tried to keep order in small settlements scattered many miles apart across the West. The West drew people for many different reasons. Some came to pursue their dreams, their hopes and perhaps find a fresh start in life. It was also a place that drew people who wanted to hide from their past, to escape the consequences of their choices and/or to take advantage of the weak. It was the sheriff, the constable, the marshal, in short, the men of the law who stood in the front lines.
These men went above and beyond the call of duty to protect the people they had been entrusted to serve. The railhead cowtowns, were the roughest of the rough, they would try to keep the innocent from being harmed or killed. In mining towns where the scent of gold was enough to draw some of the lowest of the low to gain riches by taking from others. Because there were so many small settlements across the West the lawmen were given vast areas to patrol. Some of these lawmen were shady themselves, many had the highest character and took their responsibilities very seriously. These lawmen often went beyond the call of duty to protect the people they were entrusted to serve. They were men of integrity, honor and grit. These men were amazingly tough and would pursue criminals far outside their jurisdiction to bring them to justice. They were aware that the failure to do so could cost innocent lives that was not going to happen on their watch!
These are the men I want to honor with this piece and by extension, those men and women of character today. I have read countless accounts of lawmen who rode hundreds of miles in pursuit of their target. They would outride them, partner with other lawmen and not stop until they got their man. Sometimes it was days, sometimes weeks, sometimes years. But they never quit.
So it is with this lawman. You can see the weariness in his eyes and in his body language as he looks out over the vast landscape. His horse has gone many miles but is as tough as his rider. The man has his slicker tied on the back of his saddle. The saddle he rides is one of the earlier Texas style saddles with a double cinch, a Sam Stag rigging for the front cinch and an "A" fork. He carries his canteen for water, which is hard to come by. His rifle is ready. He carries a pistol that is holstered for a cross draw from the right side. In his hand is his spyglass to scan the landscape. Many miles have passed since this man of the West began his journey. Nothing can stop him. He has a mission to complete and until he does he will be "Relentless".