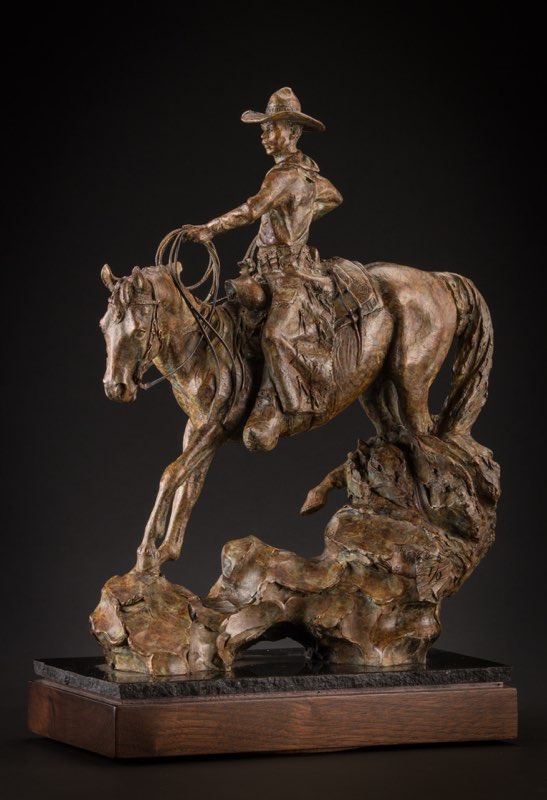 ---
Pickin' His Way
17 ¼" x 12" x 6 ¼"
Limited Edition of 9 Bronze
$4,900.00
This idea came from a book I have had for many years. It is the autobiography of Frank Polk, one of the early Cowboy Artist of America. His story is truly amazing. He lived in Mayer, Arizona for many years and always took time to talk with those who visited. One part of the story was about his work as a cowpuncher in a period when the country was filled with wild cattle and very few people.
The punchers of the the early 20th century, were very tough cowboys. It is very interesting that the same can be said for the punchers of today as. They were very fast at chasing down wild cattle in places you wouldn't think a horse could go! The cowpunchers had to be ready because a cow could spring up at any moment and the chase would be on!
This cowboy is from the 1910-1915 era. The gear, made at this time, was very unique but by the thirties changes were happening and the old era was gone. The saddle is an R.T. Frazier #461. It is very simple, a good hard working rig. His chaps add a little flair, as his batwing chaps and bridle are a matching set, also built by Frazier in Pueblo, Colorado. I love the details on the chaps, the symbols are stitched on the sides with poppers, and the same poppers are on the bridle. He is wearing drop shank spurs. He has bull nose tapaderos over the stirrups to protect his feet from all the cactus spines and rough brush. Catch rope out, he is ready for action.
His horse is sure footed and trustworthy. These horses are called "rock crushers" because they can take hard work in rocky terrain.
This is just another day for this puncher, lookin' for cows, as his horse is "Pickin' His Way".