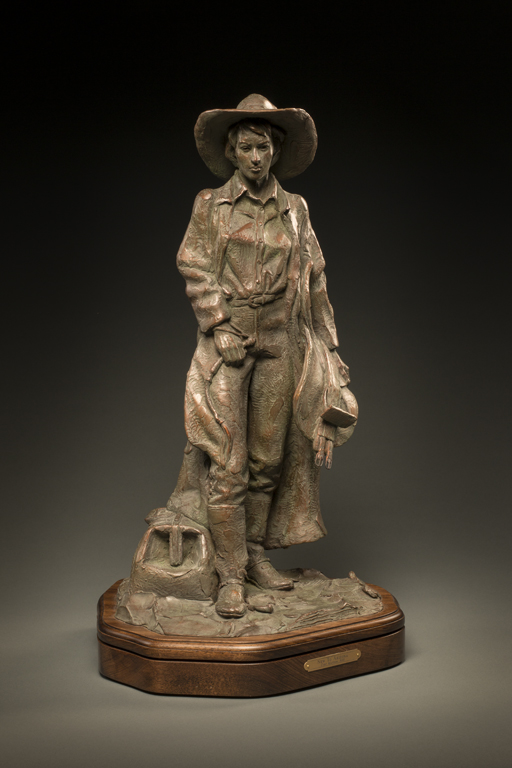 ---
25 ¼" x 13½" x 14″
Limited Edition of 9 Bronze
$6,900.00
It was the turn of the twentieth century. It was the heyday of the dude ranches! Western novels were all the rage. The Wild West was being seen all over America thanks in a large part to Buffalo Bill Cody. From the 1920's and to the seventies people were flocking to the West to see and experience this life of the West on the dude ranches. Here they experienced all that they had read about. Wranglers took them out on horseback to experience the beauty of the Western ranches. They learned to rope, watch and sometimes participate in brandings. There were chuckwagon cook outs. All this, surrounded by Natures' wonders. Beautiful places they were! From Jackson Hole, Wyoming and the Tetons to Montana's Sawtooth Mountains, through Colorado and its grand Rockies, to Arizona's wide open spaces filled with Saguaro Cactus, the West was there for all to see.
Among those who came to these dude ranches were women from the East. Coming with family, friends or alone, they came to see all they could see! Once they saw, they came back year after year, often to the same ranch, to get their fix of the West. These women had the title of "dudine". Some had never been on a horse. Others were experienced horsewomen and could ride well. As they returned, these women would become more and more "westernized".
This piece depicts one of these women. The era is the mid-1920's. You will notice that this woman is an experienced rider. She is wearing jodhpur pants and tall English riding boots. She is carrying her English saddle that she brought from the East. These things clue us in to her love of riding. But notice that she is wearing one of the large brim hats of the cowboy of that time. She wears her slicker in case the weather turns rainy. In her right hand is a quirt, also a cowboy tool of the trade. Sitting on the ground next to her is one of her bags. This woman had done her homework about what ranch life would require!
You can see from her stance and look that she is a confident woman. She is determined to get all she can from her time on the ranch. You can well imagine that if there are cattle to move, branding to be done, or even a colt to ride, she is ready willing and able! She has come prepared, and the West is taking hold, though she is "New To Arizona".