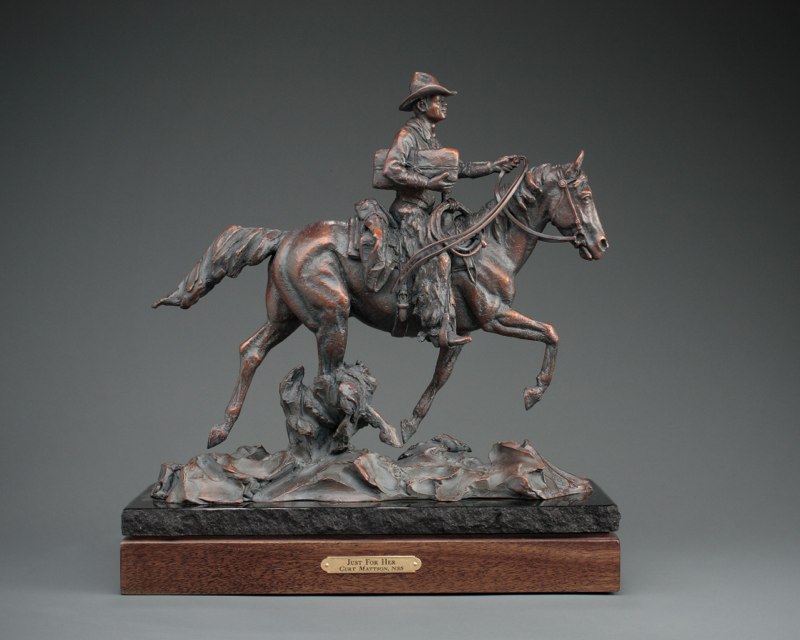 ---
16″ x 15″ x 6″
Limited Edition of 9 Bronze
$4,200.00
This is a happy piece. It began as a demonstration at the "Quest For The West" show at the Eiteljorg Museum in Indianapolis, Indiana. I was asked to do a sculpture demonstration with a live model. They brought in a gaited horse named Max. He had a wonderful head and confirmation and it was great to use him. I then had to come up with an idea for the piece. The story came from a picture I saw of a rancher standing next to a gaited horse he used for his 'go to town trips'. Many times I have read of a cowboy, or a ranch owner, bringing back a special gift for his wife or his girl friend. These thoughts set the piece in motion.
The cowboy is from Wyoming in the late 1890's. I had access to a great F.A. Meanea saddle to use as a model. Meanea was a saddle maker from Cheyenne, Wyoming. I put woolly chaps on this cowboy as they were very popular in that part of the country and they give the piece a nice look. The cowboy is also wearing a pair of leather cuffs on his wrists and a nice little pair of Buermann spurs are on his feet. His colt has a snaffle bit in his mouth.
I love the fast pace of the colt and the smile on the cowboy's face. I'm not sure what's in that package, but whatever it is, it surely appears this cowboy figures he has made a very good find for his sweetheart. The smile on his face tells us all we need to know.
This cowboy is heading home in a hurry, anticipating the look on her face when she opens the gift he chose "Just For Her".