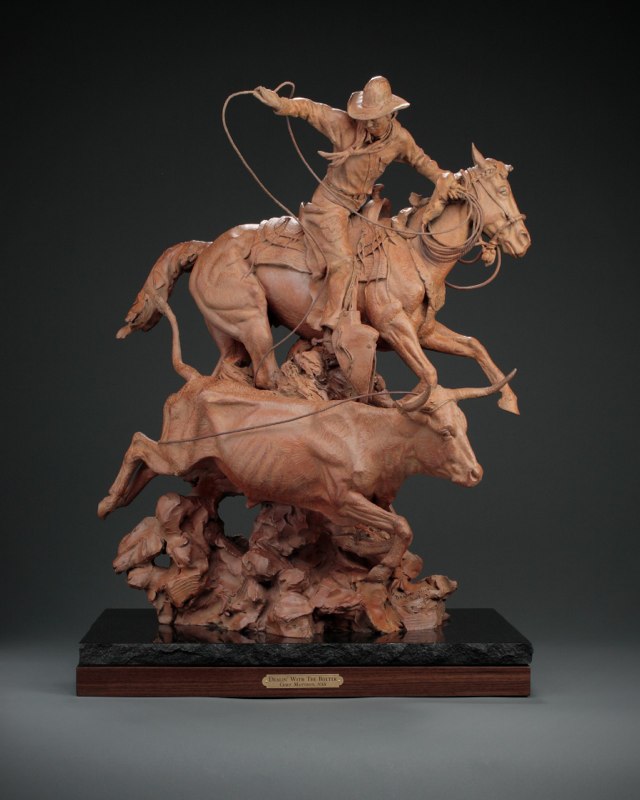 ---
Winner
International 2009/2010 ARC Salon, Sculpture Finalist
2010 Quest For The West Show & Sale, Purchased for the Eiteljorg Museum Permanent Collection
2011 Gold Medal Sculpture National Western Art Exhibition & Sale, San Dimas, CA
2017 James Bowie Award for Best Sculpture, Night of Artists, Briscoe Museum San Antonio, TX
35″ x 25″ x 23″
Limited Edition of 9 Bronze
$18,500.00
Let Curt tell you about this piece!
I like action and design in a cowboy sculpture, and if you do, you will enjoy this piece. The inspiration for this piece came from a book I bought years ago. At horse shows throughout California, Arnold Rojas would go and sell his self published books, "These Were the Vaqueros" and "Vaqueros and Buckeroos". Rojas was a vaquero on the famous Miller and Lux ranch. At one, time this ranch stretched from Baja California to British Columbia, Canada. He was a wonderful source for what the vaquero and real cowboyin' was all about. These books are very important in keeping an accurate history of the California Vaquero.
This piece depicts a vaquero roping a big 'ol steer that has tried to get back to the hills. When there was a 'gather' on this ranch, the cattle were brought out of the hills and down to the roundup area. There the herd was worked. Branding and doctoring was done, cattle were sorted, and whatever else was needed. In these herds, there are always cattle that try to bolt and get away. These cattle would get the herd stirred up and cause problems. They called these cattle 'bolters'. To deal with them, these cattle could be roped and tripped as they left the herd at a run. The vaquero would rope the steer or cow, jerk his slack and flip the rope around the tail. They would hit the ground, the wind being knocked out of them. After that they would get up, jog back into the herd, realizing that bolting was not the thing to do.
This vaquero is riding a fairly young horse. You can tell by the hackamore on his head. This is what was used to start a young horse. His saddle is from the Visalia catalogue from 1923. It is #158, flower carved and with 24 inch tapaderos on the stirrups. His chaps are Visalia shotgun. His horse has a martingale built also by Visalia around his neck; his spurs are from Visalia, #706 in the 1923 catalogue.
The big steer he is chasing is determined to flee the herd that has been gathered. I gave the horse and rider added elevation to get that sense of movement. The masses of the sagebrush give the interesting positive and negative spaces. The vaquero's attention is on watching the rope settle into position so he can go to the horn and dally. This experienced vaquero has seen this happen many times. He knows there is too much danger to let this steer cause more trouble. It's time he ropes him steer and goes about "Dealin' With The Bolter".