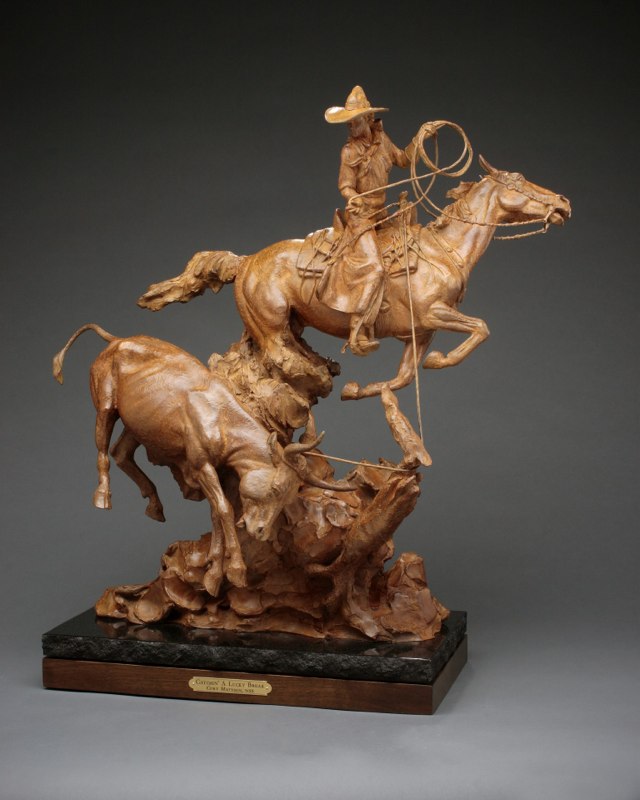 ---
Winner
International 2010/2011 ARC Salon
Sculpture Finalist & American Artists Professional League
85th Grand National Exhibition, New York, NY
President's Award
32″ x 30½" x 12½"
Limited Edition of 9 Bronze
$14,500.00
Let Curt tell you about this piece!
The story for this sculpture and the period of history were all in my mind. How I would bring it all together into an exciting piece became my challenge.
The saddle on the horse is the #7 Ladies saddle from the 1924 G.S. Garcia catalog. The piece of gear around the horses neck is her favorite martingale. The silver conchos and carving indicate to you that this is one of Garcia's finest models, #25 in the catalog. Her spurs are the #97 Ladies spur and #228 spur strap. The horse's bit is a Las Cruces Spade with rawhide braided romal reins. This horse is the pride of any buckaroo; the finished Spade bit horse.
These horses take years to train, and they represent the highest form of horsemanship in the buckaroo world.
This piece is from the 1920's, and this cowgirl has her hands full! When you are roping cattle, things happen really fast. With the wild cattle that were on many ranches in the West, things happen even faster. You can make the prettiest catch, the best shot you've ever made, and suddenly something happens and you are in trouble. This handy gal is navigating a tough situation, but is up to the task. She's dallied up and dealing with it. The steer is fighting for all he's worth. The horse is pealing off to the left because he knows his job. He is listening to his rider, and ready to act at a moments notice.
This cowgirl, as with any one of us, loves those moments when we are "Catchin' A Lucky Break".