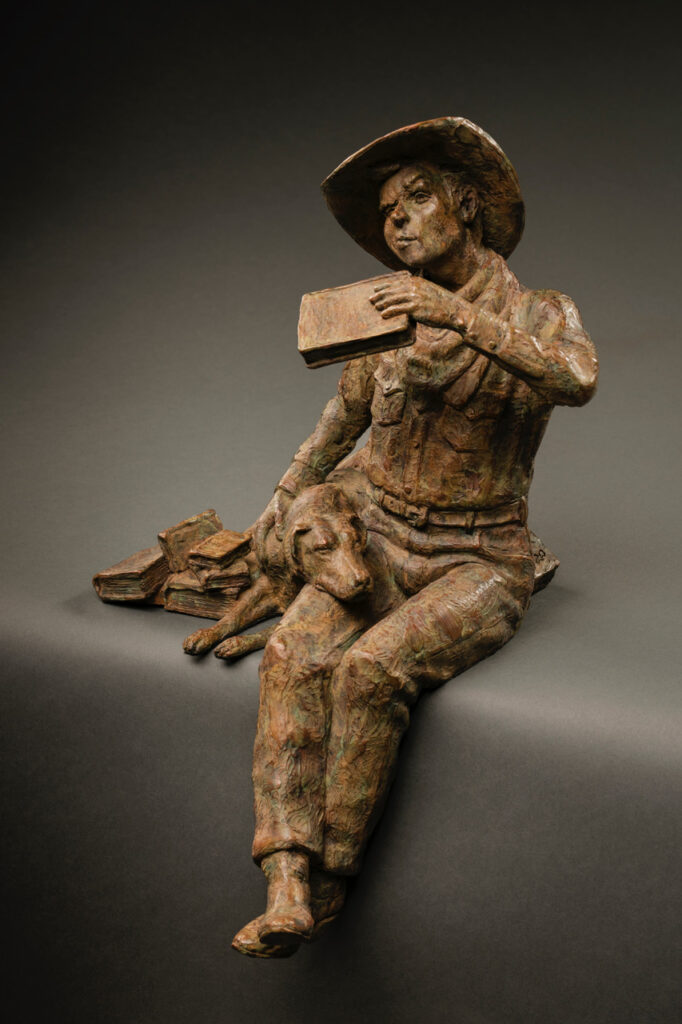 ---
15 ½″ x 9 ¼" x 12 ¾"
Limited Edition of 20 Bronze
$3,600.00
Let Curt tell you about this piece!
There were few things that made life on the trail seem a little more civilized for a cowboy. The long hours in the saddle, constant danger from Indians, cattle rustlers, broncy horses and wild cattle soon let you know you were in a wild land. One of the pleasures that cowboys enjoyed around the camp fire at night and in their rare spare time was reading which continues to this day. Some of the cowboys of the 1860's -1880's could not read but there were many who could. Before turning in they would relax around the campfire and read to others or by themselves. These cowboys carried their books rolled up in their bedrolls. When the range was fenced and cowboys began living in bunkhouses and line camps, books were still a big part of their life. In winter months, a cowboy spends his time mending fence, feeding cattle and repairing his gear for spring. Many make their own gear as well. During these months, reading was a favorite past time. A saddle shop in West Texas keeps a large bookshelf that is a lending library. When the cowboys from surrounding ranches come into the shop, they are welcome to bring the books they have been reading and exchange them.
This piece is set in the early 20th century around 1910-30. The cowboy is looking at his book collection deciding which one will be his next read. A little known fact about cowboys of any era is that some are better educated than most people realize. Many have attended major universities and are very well read. One of the fun things about this piece is that you can look around the piece and see the titles he has in his library. Some might surprise you! You can see this decision is not taken lightly by the expression on his face. He wants to make the right choice! It takes a while. His faithful dog is lying quietly next to him with his head on the cowboy's lap, sleeping the time away.
Unlike many sculptures the piece is specifically designed to sit on a shelf, mantle or book case. This cowboy is showing himself to be a "Bunk House Scholar".