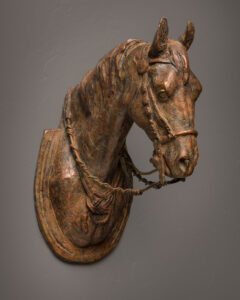 8 ½″ x  4 ½" x 6 ½"
Limited Edition of 9 Bronze
$1,600.00
Let Curt tell you about this piece!
   Horsemanship is fine art. Buckaroos take great pride in their horses and horsemanship. It takes many years to develop the skills to become so attuned and to understand their language. The wonderful thing about horses is, once you can speak to them in a way they understand, they try very hard to please you. It is a pleasure to watch a knowledge buckaroo and their trained horse work seamlessly together. The ultimate accomplishment of a good buckaroo is to train a finished bridle horse. The goal of a good buckaroo is excellence; the resulting product is "The Graduate".`
   The bridle horse takes many years to train and requires much dedication. As a young horse, a colt will be started under saddle in a hackamore. This is a bitless bridle where you teach them signals, cues and how to give to pressure. This teaching is the basics that they will use their entire lives. Next comes the two rein stage where the horse wears the hackamore with a spade bit. This is a signal bit, and the horse learns the signals of the bit by associating the signals and cues they know from the hackamore. The last step is only in the bridle, which is referred to as "straight up in the bridle". This training will create "The Graduate".
   You will notice the bridle and bit are silver adorned. The buckaroo who owns this horse has a very real sense of pride in this good horse and wants that reflected in the tack. The reins are braided rawhide and are balanced so that the horse can feel every movement from the rider. You will notice around the horses neck a horsehair rope called a "mecate" rope with a special knot in it. The knot is called an "Alamar" knot. It is used only on a finished bridle horse for special occasions, to dress up the horse even more or just because it looks so cool anytime! The knot is a testimony to all who see it. This horse is "The Graduate".